Photo by Kentucky Men's Basketball Twitter
Kentucky Basketball
Cats Shoot the Lights Out
---
Kentucky played their second game in as many nights in their 2018 Big Blue Bahamas Foreign Tour, and the young Cats showed nice progression. There were noticeably fewer jitters in game two as the latest version of the Kentucky Wildcats went to work immediately and shot the ball comfortably and confidently throughout the game.
This game was said to be a much tougher opponent as the Bahamian National Team did not throw their full roster at the Cats the night before. As information rolled in on San Lorenzo de Almagro's available players for the evening, Kentucky quickly became a 9-point underdog.
Game Recap
I wondered yesterday if Tyler Herro could lead the Cats in scoring this year and he continued to impress, scoring in a variety of ways. As he knocked down his 3rd straight 3-pointer to put Kentucky up 45-27, the lights literally went out in Atlantis and took us to an early halftime. Shout out to the SEC Network as they jumped in and discussed Kentucky Football for 10-15 minutes while they worked out the electricity issue at the resort. Herro was easily your player of the game as he finished 7/10 from the field, 4 of 5 from downtown and poured in a game-high 22 points.
Do not worry about Quade Green's jumper as he bounced back from a poor shooting night by drilling a 3 on the first possession and finishing a perfect 4-4 for the game. Keldon Johnson showed us he is the young man we've been hearing rave reviews about with a much more efficient game - going 5/7 from the floor. Fans really wanted to see these two have better showings in game two and they were able to do it immediately.
I will add, however, the one issue I wanted to see improvements that did not happen was with Reid Travis. He stayed very close to the basket in game one and I was hoping he had just reverted back to his comfort zone a little. In this game, he did get the ball a few times a little further out, but he did not appear confident in that situation. Reid came back to college to show the NBA he has game out there, but there is still a lot of work needed.
The team showed great energy again and confidence for a young team. These guys are a little swaggy out there and are not afraid to talk some smack. They backed it up all game. Kentucky shot 64% for the game, including 7/12 from 3. That is a YUGE turnaround from game one, where the Cats went 2/20. The Cats led the entire way, winning 91-68.
Highlights & Box Score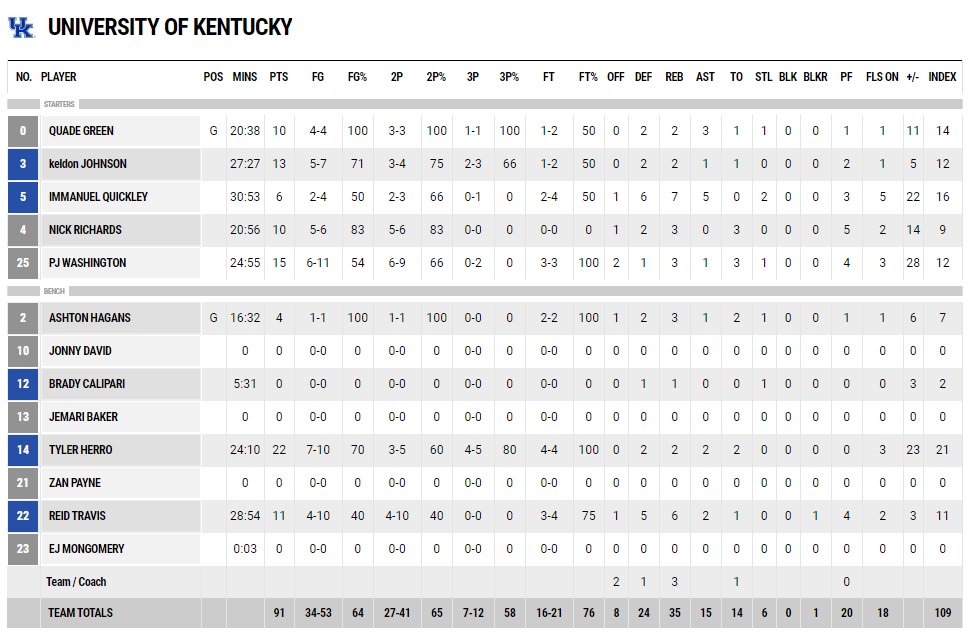 Never miss the latest news from Big Blue Banter!
Join our free email list